YouTube Graphics Maker
Know it all about this stunning YouTube Graphics Maker
https://www.youtube.com/watch?v=xXp7iHUZXvg

YouTube is effectively the second largest search engine in the world and videos has became more and more important, that's the main reason here in John Marketing Tools Review we want to show you about great YouTube Graphics Maker and how can help you to optimize your channel.
YouTube Graphics Maker
Thumbnails are the most important aspect of any video's release, other than the content itself. This is because thumbnails, in combination with titles, are often the biggest deciding factor in whether or not a person will click to watch a video.
The main objective for thumbnails is to get our audience, and new audiences, to view the video content and then go on to watch more of the other content in the channel.
There are three main guiding philosophies that allow us to achieve this objective with the thumbnails.
These accurately portray the content in the video.
Also get our audience excited about watching the video.
And finally, draw the attention of our audience.
If we want to engage our online video audience and see it grow, we need to follow these philosophies. In order to do that, viewers need to actually watch our content. And in order for viewers to actually watch our content, our thumbnails must be exciting and draw in their eyes.
And in order for our viewers to want to watch more of our content, our thumbnails must accurately represent what's in the video and stand out among all the others on the YouTube platform.
How to create YouTube Graphics
With Laughinbird Software you can professionally design YouTube banners and thumbnails, and all kinds of graphics. And you have over 100 templates to modify and hundreds more graphics to use.
With this software, you can learn how to use close ups on faces. Many places refer to this tactic as one of the most important for thumbnails, because humans have evolved to detect eye contact.
Therefore, making thumbnails with eye contact more eye-catching, especially if the whites of the eyes are visible are the best way to catch more audience. In addition to this, humans communicate in large part by reading emotional cues on the face.
The second thing you can create with this YouTube Graphics Maker is to optimize your images with bright backgrounds.
Thumbnails with attractive backgrounds stand out against the white background of YouTube, and also stand out in relation to other thumbnails without a bright background.
In addition, we've had a lot of success using the sunburst or pinwheel effect which draws the viewer's eyes back to the vanishing point, which we place directly behind the face.
Besides, with this YouTube Graphic Designer we can use text and add it easily to the image. The titles of our videos should be enough copy but in some instances, such as in gaming videos, using text is vital. And with this software, we can use text that stands out from the background with a heavy outline or contrasting colors.
YouTube Graphic Designer customize colors
Colors are really important to create banners and video thumbnails, also is a form of communication that you can use to create a more persuasive and compelling image.
With this software, you can select the appropriate colors to reinforce the message and contrast your video from others. When choosing colors for thumbnails, you can try to use complementary colors.
This YouTube graphic designer helps to choose complementary colors because these are colors that stand out against one another, perfect to drag all attention.
For example, if the subject of our thumbnail is blue, we choose a yellow and orange background. Since these are complementary colors (blue and orange) they stand out against each other, which draw in the audience's eyes.
Your thumbnails should be easy to see and understandable to the casual viewer. This means that your thumbnails should visually tell the story of what your video is about.
You don't need to spend a lot of time on our thumbnails. With this software, you can choose a template or start from scratch. Either way, you can create the top banners for your YouTube channel.
You can even create those "End Bumper" images using the modifiable templates.
Also, you can select from 50 thumbnail templates. Modify them with a few clicks or create your own works of art with some of the elements. You don't need to resize any image, with the template, is everything already done.
This software is awesome to make YouTube graphics because allows you to create attractive images for your channel, not only thinking in the channel but also, to consider where your content will be seen beyond that your channel page.
You will have viewers on desktops, tablets, laptops, phones, televisions and whatever new format comes out next week. That means you need to optimize your image to look great on every platform.
Use this YouTube graphic maker and save time, money, not spending more time than need in optimizes your images. Don't forget this is one of the most important social media for users and perfect for dragging organic traffic to websites and fan pages, besides, with this software, all this is easy to get in short time.

Buy through my link above and you'll get the following special bonuses. Just email your receipt to [email protected]

                                                                                                                                          Bonus #1   YouTubeR Playlist Creator
                                                                                                                                           Create killer looking YouTube Playlist sites in record time!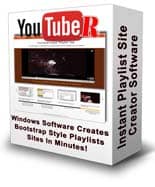 Bonnus #2 Marketing Within YouTube
                                                                                            How to utilize YouTube to promote your online content!
                                                                                                                                   Bonus #3 YouTube Traffic Weapon Video Upgrade
                                                                                                                                                        Market On YouTube For Hordes Of Traffic!
 Bonus #4 Crushing It With YouTube
 Drive a High Volume of Quality Visitors to Your Website
                                                                                                                                       Bonus #5Google Plus Traffic Pool
                                                                                                                                  Take Advantage of Google Plus for Additional Traffic!
                                                                                  Bonus #6 Start a Fiverr Business
                                                                                                  Start a Fiverr Business With Absolutely No Experience!
Buy through my link above and you'll get the following special bonuses. Just email your receipt to [email protected] 
[wp-stealth-ads rows="2″]